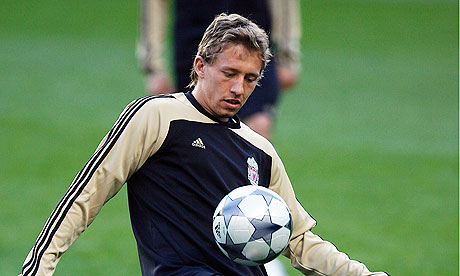 Lucas Leiva would relish stepping into Javier Mascherano's boots should, as is widely expected, the unsettled Argentinian depart Liverpool this summer. At one time that idea might have prompted derision among Anfield regulars but the Brazilian central midfielder has begun quietly winning over his critics.
Deployed in an enforcement role Lucas not only captained an understrength Liverpool during a comfortable 2-0 Europa League qualifier first‑leg win against FK Rabotnicki in Skopje on Thursday night but played with real authority.
"I know I am able to do that [occupy the Mascherano role] because last season I played a few games when Javier was at right-back," said Lucas. "I've got no problem with doing that job. We all hope Javier stays because he is such a good player but if my chances come I will try and take them. I'm not the same player as Javier, we have different styles, but I am ready to play and to impress and do whatever job the manager needs from me. I think I did well last season but I think in this one I can do even better."
Lucas still has his detractors but Liverpool's new manager, Roy Hodgson, does not appear to be among them and the midfielder is duly hoping this summer may mark a watershed in his hitherto underwhelming career on Merseyside. "I'm really proud, really happy of being captain in such an important game. I know there are a lot of senior players in front of me but I hope I can stay in the team. Having the captaincy shows that the manager knows a lot about me and believes in me. I am ready to give my best for Liverpool."
Hodgson's starting XI for the Anfield return on Thursday could be significantly revamped with Steven Gerrard, Jamie Carragher and Joe Cole possibly coming back into contention following post‑World Cup breaks. However, Lucas insists he and others, most notably the £17m Alberto Aquilani, will not step aside without a fight. "There is a lot of competition for places, but that can only be good for Liverpool and what we want this season," he said. "There are lots of good players going for the team now – and Alberto is getting his fitness back all the time."
Aquilani was used in a floating role behind the impressive, newly robust lone striker David Ngog – who scored both goals and held the ball up far better than on previous occasions – in Skopje. It was a tactical switch applauded by Lucas. "The shape was really good and hopefully that will carry on. Hopefully this year will be a lot better than last. We are expecting positive things."
There were isolated reports of racist abuse during the match on Thursday. Accordingly Uefa is waiting to assess submissions from its delegate in Skopje and the match referee before deciding whether a disciplinary case should be opened against FK Rabotnicki. Liverpool were unaware of any such incident, although their Greek centre‑half Sotirios Kyrgiakos was jeered every time he touched the ball, thereby reflecting the loathing many Macedonians harbour for their southern neighbours.