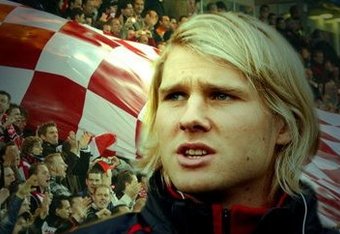 Torres is the main weapon of Liverpool in striking and if the Reds cannot find an alternate striking option, then they can suffer in this season too.
Roy Hodgson plans to invest in one or two more players before the transfer window closes and a forward for the Reds is the need of the hour. Milan Jovanovic and Maxi Rodriguez may always add to the attacking options, but you simply cannot ignore the absence of a scorer and real goal poacher.
The Liverpool Managing Director Christian Purslow told to BBC that he expects Liverpool to land more players this summer as the target for the club and manager Roy Hodgson is significant, they want their entry back to the Champion's League.
So, Liverpool prepares a £5m bid for the Swedish forward Old Toivonen. Toivonen, playing for PSV Eindhoven, impressed Hodgson in the 3-0 victory against Scotland. Toivonen also bagged in a hat-trick in the opening 3-1 win of PSV against Heerenveen.
The player, at 24, is 6'4'' tall and is good in the air with strong goalscoring ability. He finished the Dutch Eredivisie 2009-10 with 13 goals to his name.
He can play as a second striker, an attacking midfielder but primarily plays as a striker in PSV Eindhoven. So, his versatility can add new colors and dimension to the team. And in the end, he can be a very good buy at that price tag.
So, if the deal works out, it can really be a good option to the Reds to add some strength to the team. Liverpool has also been previously linked with players like Bryan Ruiz, the Twente man from the Dutch League who scored 20+ goals last season.
With this signing coming true, Liverpool would complete their 5th signing of the season after Milan Jovanovic, Joe Cole, Daniel Wilson and Christian Poulsen recently.
Whatever happens, somethings make us feel that Liverpool are going to land another player before the window closes. We will wait to see that "One".